Well it is almost upon us again, last year we celebrated 20 years in business by bringing back the infamous Motoxtremes Open House event after a brief hiatus.  This year, we are hosting this event on Saturday, October 5th from 10 am to 5 pm.  Back to being on the first weekend of October as it historically was always held.  Mark your calendars now if you haven't already to be a part of this day filled with live music, balance bike racing for the kids, great sales, free food & more.
Orschell Excavating will be helping with some pork butts & fried chicken while our friends from Center Hub Deli & Catering will provide some sides & more … at no cost to YOU, our customer!
Balance Bike racing will be early in the day with open riding/sign-ups from 10 am to 11 am & racing to follow immediately.  Please bring your child's bike & helmet!  Helmets will be required for the kids to participate.  We do have DK Nanos for sale on site which retail for $129.95 (may be on sale day of event :).
There will be several different sales going on from discounts on everything in the entire store to 'buy x get x free' types of deals AND a FREE GIFT to every customer who makes a purchase that day – with some pretty cool grand prize giveaways like helmets, gear bags, gear sets & more!  You will NOT want to miss this event, trust me.
We are welcoming the following bands this year & they'll all put on a great set you won't want to miss.
12.30pm – Rhythm & Booze
1.30pm – Blatant Finger
2.30pm – Howling Commandos
3.30pm – Sink Faster
Any questions, feel free to give us a call or email us [email protected] – hope to see all of our friends there!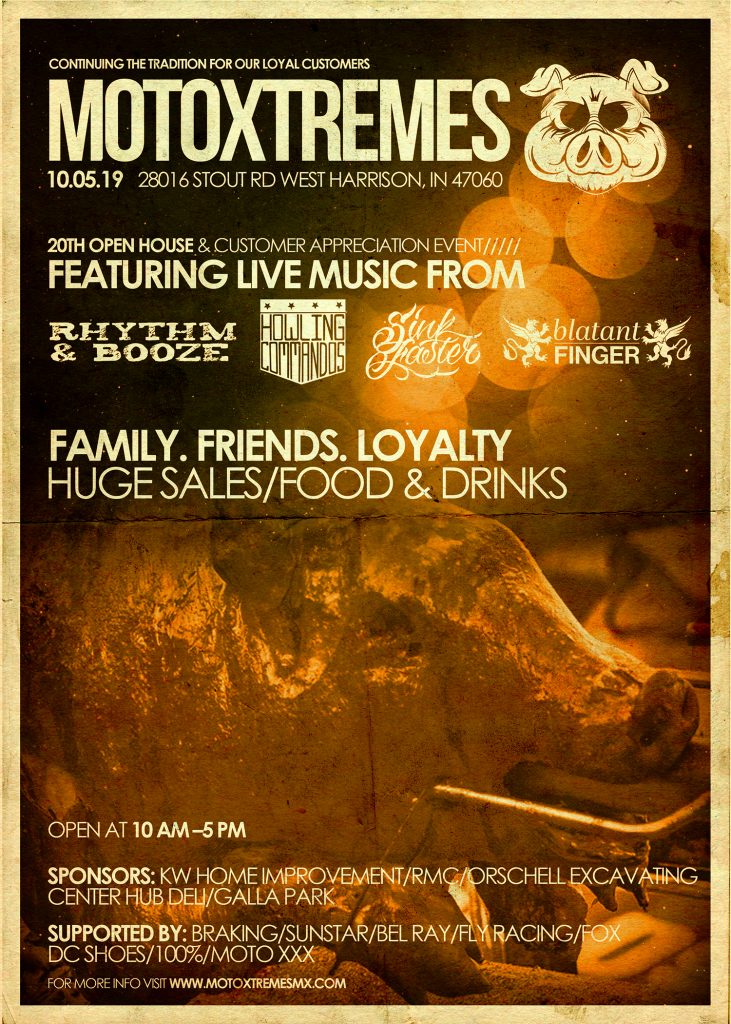 Trying to stay up to date on what's hot in motocross apparel and don't know where to start? Start with Motoxtremes! We carry a variety of big names like Metal Mulisha, DC, Vans, Alpinestars, etc at competitive prices. Motoxtremes has put together a list of the hottest trends in motocross apparel for the holiday season.
Trend #1: W
arm hoodies made out of fleece material.
Trending: Fox Racing Mogul Sasquatch Zip Fleece
Why we love it:
We love this Fox Racing fleece hoodie because unlike other sweatshirts, this comes with a faux fur lining to provide extra warmth for the colder months.
Similar trending items: Volcom Logan Lined Zip Fleece, Hurley Dri-Fit Zip Fleece, Metal Mulisha Real Ruts Fleece Zip
---
Trend #2: Beanies with Logo patches
Trending: Volcom Full Stone Beanie
Why we love it:
Who doesn't love a warm beanie to keep your head warm during the fall and winter season? Don't just wear any beanie. Let people know what you are wearing. You need to a ribbed beanie with the Volcom logo patch.
Similar trending items: Oakley Factory Flip Beanie, Metal Mulisha Shield Beanie, Oakley Reversible Cuff Beanie
---
Trend #3: Dark Denim Jeans
Trending: Fox Racing Garage Jeans
Why we love it:
These relaxed fit jeans will have you stand out with its bleach stone wash color. You will relax in comfort because these high quality jeans are made of 100 percent cotton.
Similar trending items: Volcom Nova Solver Denim Jeans 

Motoxtremes is your one stop shop for all of the hottest holiday trends in authentic motocross apparel. If you are looking for an item online and we don't have it, you can request the item through our contact us form. Like us on Facebook! We post coupons all of the time.
Here at MotoXtremes, we make it easy to be warm and stylish at the same time. Check out these cool brand name items that look nice but are also on sale.
Cold weather does not always require a coat or jacket. You can stay warm and stylish with a hoodie or sweatshirt. One of our most popular, new fall items, our Fox Racing Terrain Zip Fleece is perfect for wet or cold weather and 100% polyester. The zipper gives you an option of having your jacket open or zipped to control your body temperature.  Not only does it look nice, but it also includes an interior media port!  Save 10% for a limited time!
Do you overheat easily or just like to show off? If so, you can unzip your hoodie and expose a fashionable Alpinestars Spencer Classic Tee. The green gradient design goes perfectly with the hint of green on the Fox Racing Terrain Zip Fleece. It will keep your body looking good and your pockets happy because it is 100% cotton and 12% off right now!
What's a perfect outfit without the perfect shoes? To complete this look you will want to have the DC Versaflex 2 Shoes Black Gradient and right now you can save $45.00 dollars off of the original price.
Check out this week's top selling items for other great looks!
Unfortunately for many school aged kids, summer is pretty close to being over. Soon your kids will be begging you for all of the newest trends in back to school clothes. We are offering a HUGE back to school sale this year until September 1st.
We have also stocked our shelves with tons of brand new apparel. Highly anticipated Fox Racing Hoodies, Pull Ups, or Zip Ups are here! If you want the hottest back to school clothing, backpacks, or accessories, this is a sale you wont want to miss!
Father's Day is gradually approaching and soon, it will be here. What better way to surprise your dad than to get him his favorite t-shirt, jacket, or hat brand from MotoXtremes? Anywhere from Oakley and Alpinestars to Fox and Racecraft…we have it all! Not to mention that there's free shipping on everything right now! Who would resist that?
Are you the type who likes to look around in a store? MotoXtremes has a retail store located in West Harrison, Indiana. If you need help looking for any item, we are here to assist you. We also take in-store exchanges and have a secure payment process.
Don't forget to shop at MotoXtremes for Father's Day! Visiting our online store to shop is a plus because of free shipping. Our free shipping is only offered to United States residents. Contact us today to give your dad a gift to remember!!